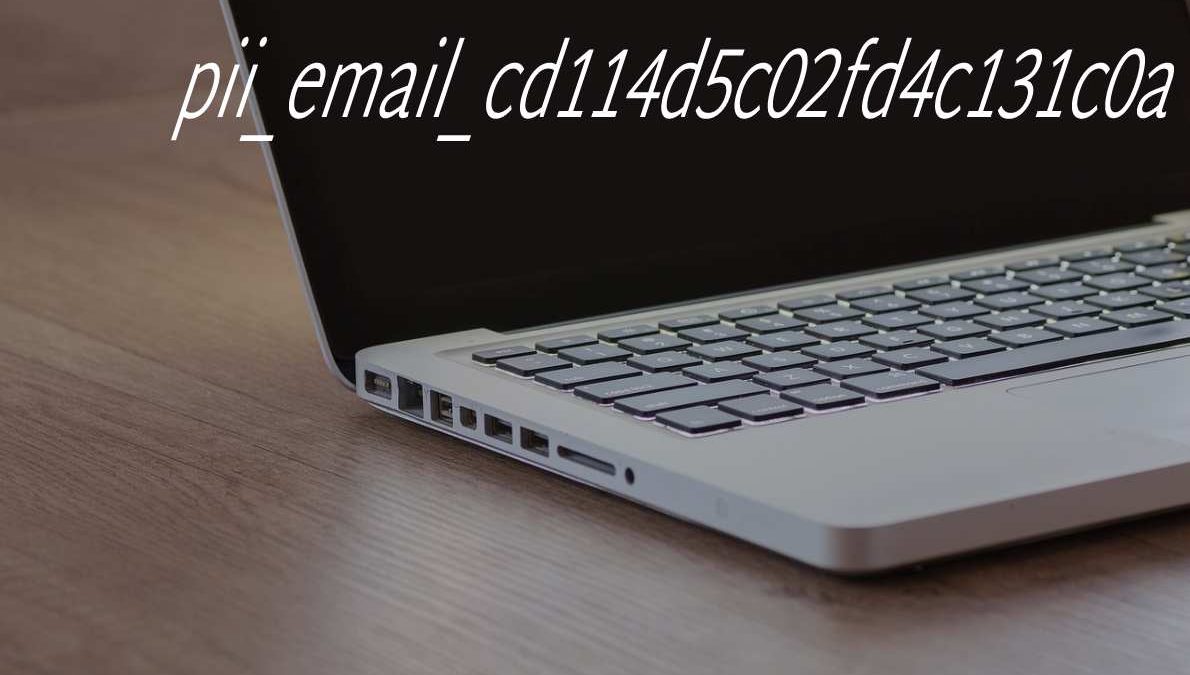 What is an error code
In computer programming, a reappearance or an error code is a numeric or alphanumerical code used to decide the nature of errors and why they occur. They are also typically determined in patron electronics and devices after they attempt to do something they can't do (e.G., dividing through 0) or fail to do, and they may occur error handlers that determine what motion to take.
Error codes and exception handling
Error codes are passed to exception treatment in programming languages that support it. These are given to log files & the parent process to determine what action to take.
How to Solution pii_email_cd114d5c02fd4c131c0a Error Code?
You now recognise the pii blunders within the email, so there may be no confusion. The following question is how to fix this error. We have some methods to help you remedy the pii email errors.
Try Cleaning Cookies and Cache
As we referred to before, from time to time, the usage of a couple of money owed can be one of the leading causes of your dealing with [pii_email_cd114d5c02fd4c131c0a] e-mail mistakes. If you have much money owed inside the identical window, definitely logging out will now not help with this mistake- instead, it's going to motivate it. An easy way to repair it's far clearing out all the cookies and cache, so you have a brand new document and wipe out the vintage ones. This step will delete all information you may have accrued in the database. Don't you understand the way to do it? Don't worry, as that's why we're here.
RELATED SEARCH TERMS
pii_email_cd114d5c02fd4c131c0a
[pii_email_a0226bed41eeb6f14136]
[pii_email_8918ad2ef92e122857e4]
[pii_email_f12b40e948be1a378ebc]
[pii_email_7785d13b9e27a8b2e739]
[pii_email_eed711745a2299f4f80b]
[pii_email_ade51c9dc40f02cc1a44]
[pii_email_c43789565daba92ce48e]
[pii_email_678a24842f080dbe38c1]
[pii_email_9adeb2eb81f173c673a5]
[pii_email_e147cf3510887c53b5ed]
pii_email_425d3d660cb9bebc0b02
[pii_email_b7b9d5d61500d9f178f0]
[pii_email_a427253221614b6547d5]
[pii_email_02c539a1c1ccd2e33228]
[pii_email_19fb008f8f6ec8e3c266]
[pii_email_07edc33cb140330f1aaa]
[pii_email_05e77712db01a46920f2]
[pii_email_157cb698cfd66ffbc653]
[pii_email_18f659da0217142a746f]
[pii_email_60689d34895772cb2603]
[pii_email_7becc2d384ac4e092a4c]
[pii_email_d5a5153e70f4cab38e8b]
[pii_email_cb61a5b9a629404d30b6]
[pii_email_4697302c897781b9f0b5]
[pii_email_a92ff817d17e8d60452c]
[pii_email_493da47954eefc511cb8]
[pii_email_2d2326e4e182f4bf0e8b]
[pii_email_448b57580678981b4e78]
[pii_email_d53a2de2cc9319f2a5fd]
[pii_email_1da51db36ef3462b1aaf]
[pii_email_af1075b397e4d10b24ca]
[pii_email_8191899b7a079b13ca97]
[pii_email_646805102dc2a4498f28]
[pii_email_f3d978384a2f35165405]
[pii_email_1ebcbca19e33a313c530]
[pii_email_83bbd8bd4807216916f3]
[pii_email_e6685ca0de00abf1e4d5]
[pii_email_49101034a02210759cfb]
[pii_email_57bde08c1ab8c5c265e8]
[pii_email_4459503fdeac19759d10]
[pii_email_0a4744fca97af54a07ea]
[pii_email_bb4d7523bc9ee9b5eb40]
[pii_email_5b2bf020001f0bc2e4f3]
[pii_email_2e9b4617da468a19e809]
[pii_email_c8f34fba185793b8f478]
[pii_email_f8da19dded91c629feb4]
[pii_pn_d16ef95aad8ce30d3462] phone number
[pii_email_22600a6ff80340707cf5]
[pii_email_f447b7a19154f56107b3]
[pii_email_fd7dff76fcbbdbfa0e04]
[pii_email_d102a27c2c792cab4613]
[pii_email_3f077df5ec99ef9f6552]
[pii_email_adcefff1909481288387]
[pii_email_cf2e8f6a1f290bfb95d0]
[pii_email_e3591df394f434605722]
[pii_email_385c408ef50c8f261dc1]
[pii_email_799e2da58e7de5ff7df2]
[pii_email_f1217f3c0cb773984c4b]
[pii_email_8ee048ebb9332e51a5d4]
[pii_email_ca3ce86b635fafcf1b4c]
[pii_email_2189e72d4f791b41002d]
[pii_email_a8141d83db6fd7755e2d]
[pii_email_b4ff9cee962508372fde]
[pii_email_18e4dbc745df41e1f06e]
[pii_email_84e9c709276f599ab1e7]
[pii_email_e87e9a9bf84739a75081]
[pii_email_e3c8f8ca54a98febc7a7]
[pii_email_9ba94c086590853d8247]
[pii_email_7c34d512bfe19ce2a356]
[pii_email_3b0f2fc46756d61ab5ef]
[pii_email_b7c1a48fd6e3fe9b6fee]
[pii_email_19804f11cc98bc22f724]
[pii_email_4153321ad10416f634cf]
[pii_email_39de9141acd7392c3af8]
pii_email_830d8f2345ded6325e2e
[pii_email_aa440ae03e7463817860]
[pii_email_139734dea674c86c8863]
[pii_email_cfc2e955ce5c65b79fa0]
client [pii_email_beb0834498fda0eb5060]
[pii_email_36d266ce44357a4baa84]
[pii_email_542f5628c44abf8e9e3c]
[pii_email_83753d1e93ba4de3b48c]
[pii_email_49963837f58b6c81b1e3]
[pii_email_d9fdae4b44ee88410b67]
[pii_email_f7292bfc70600e64801c]
[pii_email_13f30655fbf8b5db5e99]
[pii_email_f4b2a19076f48718515a]
[pii_email_18c8746bda95e3a510e3]
[pii_email_cb8a35baff7419fca879]
[pii_email_8e3f8398bf51fbebaf7c]
[pii_email_611353d3e9e420a6f5ae]
[pii_email_7021c22ca9ab495d1eda]
[pii_email_61746a5949fadf21e119]
[pii_email_062e0ea9296dc59f5879]
[pii_email_40678606676b129478a0]
[pii_email_808e6a73efe37f367a76]
[pii_email_23430b2b421e446471fc]
[pii_email_16f0ee79b252f099535f]
[pii_email_5e77a638928d079935af]
[PII_EMAIL_026A938777126843ED1A]
[PII_EMAIL_02C539A1C1CCD2E33228]
[PII_EMAIL_05E77712DB01A46920F2]
PII_EMAIL_062E0EA9296DC59F5879
[PII_EMAIL_07EDC33CB140330F1AAA]
[PII_EMAIL_0A4744FCA97AF54A07EA]
[PII_EMAIL_0A6A0C9C5E09C4C5AD0E]
[PII_EMAIL_111DD8F5FA26379DC099]
[PII_EMAIL_13456C935BC89B0872FE]
[PII_EMAIL_139734DEA674C86C8863]
[PII_EMAIL_13F30655FBF8B5DB5E99]
[PII_EMAIL_150AC0DC49CD6A411CB2]
[PII_EMAIL_152BEEF7ECB9CE039363]
[PII_EMAIL_157CB698CFD66FFBC653]
[PII_EMAIL_1606B61A08E6A2CF4DB9]
[PII_EMAIL_16F0EE79B252F099535F]
[PII_EMAIL_178B1B8C8E4DC1C33C0F]
[PII_EMAIL_18AF1EB5D10DF3384199]
[PII_EMAIL_18C8746BDA95E3A510E3]
[PII_EMAIL_18E4DBC745DF41E1F06E]
[PII_EMAIL_18F659DA0217142A746F]
[PII_EMAIL_19804F11CC98BC22F724]
[PII_EMAIL_19FB008F8F6EC8E3C266]
[PII_EMAIL_1A14D02C3EEE96A8DD4F]
[PII_EMAIL_1DA51DB36EF3462B1AAF]
[PII_EMAIL_1EBCBCA19E33A313C530]
[PII_EMAIL_20B29DBC7C205901E8C2]
[PII_EMAIL_2189E72D4F791B41002D]
[PII_EMAIL_22600A6FF80340707CF5]
[PII_EMAIL_23430B2B421E446471FC]
[PII_EMAIL_2D2326E4E182F4BF0E8B]
[PII_EMAIL_2D4E338C425B3379BA56]
[PII_EMAIL_2D918F898214972BFD4E]
PII_EMAIL_2E9B4617DA468A19E809
PII_EMAIL_30C8F761458EBA2F61E3
[PII_EMAIL_30EB1DF47DBB2FDB7DE5]
[PII_EMAIL_31E70D8604BD7A4AFAA6]
[PII_EMAIL_36D266CE44357A4BAA84]
[PII_EMAIL_36DCF8A3A6EB96FDE52C]
[PII_EMAIL_3795F708AC77B47FB6E1]
[PII_EMAIL_385C408EF50C8F261DC1]
[PII_EMAIL_39DE9141ACD7392C3AF8]
[PII_EMAIL_3B0F2FC46756D61AB5EF]
[PII_EMAIL_3B13BEC318867486D0B2]
[PII_EMAIL_3C978BD6866E2A4554E4]
[PII_EMAIL_3F077DF5EC99EF9F6552]
[PII_EMAIL_40678606676B129478A0]
[PII_EMAIL_4153321AD10416F634CF]
[PII_EMAIL_425D3D660CB9BEBC0B02]
[PII_EMAIL_4383C3E1B44B6074E28E]
[PII_EMAIL_4459503FDEAC19759D10]
[PII_EMAIL_448B57580678981B4E78]
[PII_EMAIL_448F07E319AA667EB84C]
[PII_EMAIL_4697302C897781B9F0B5]
[PII_EMAIL_4907E0D813C35A515BC3]
[PII_EMAIL_49101034A02210759CFB]
[PII_EMAIL_493DA47954EEFC511CB8]
[PII_EMAIL_49963837F58B6C81B1E3]
[PII_EMAIL_4A5A3D0CDD5C322C7BFE]
[PII_EMAIL_4E140BC296DC933E64D0]
[PII_EMAIL_4E85BDA8F67ED3B155B9]
[PII_EMAIL_4E9D59C6FE602A4EF322]
[PII_EMAIL_503AB0A4B5FE1551640D]
[PII_EMAIL_542F5628C44ABF8E9E3C]
[PII_EMAIL_549C8D78F81AFEAAB8CD]
[PII_EMAIL_57BDE08C1AB8C5C265E8]
[PII_EMAIL_59D96D4A92EB2B0FAB65]
[PII_EMAIL_5B2BF020001F0BC2E4F3]
[PII_EMAIL_5BB4BC9880756343BBB7]
[PII_EMAIL_5E77A638928D079935AF]
[PII_EMAIL_60689D34895772CB2603]
[PII_EMAIL_611353D3E9E420A6F5AE]
[PII_EMAIL_61746A5949FADF21E119]
[PII_EMAIL_622FA1405DE0E2F94031]
[PII_EMAIL_646805102DC2A4498F28]
[PII_EMAIL_678A24842F080DBE38C1]
[PII_EMAIL_7021C22CA9AB495D1EDA]
[PII_EMAIL_70BF1FDC2C812EE79C5C]
[PII_EMAIL_72433F93D9C4581CA914]
[PII_EMAIL_735C4AE1928B578A8F20]
[PII_EMAIL_75BC94DFB70BDB0954F4]
[PII_EMAIL_7785D13B9E27A8B2E739]
[PII_EMAIL_799E2DA58E7DE5FF7DF2]
[PII_EMAIL_7A7D3C54427D9CDC9CF0]
[PII_EMAIL_7BECC2D384AC4E092A4C]
[PII_EMAIL_7C34D512BFE19CE2A356]
[PII_EMAIL_808E6A73EFE37F367A76]
[PII_EMAIL_8191899B7A079B13CA97]
[PII_EMAIL_81FBEBF8C301859C123B]
[PII_EMAIL_830D8F2345DED6325E2E]
[PII_EMAIL_83753D1E93BA4DE3B48C]
[PII_EMAIL_83BBD8BD4807216916F3]
[PII_EMAIL_84E9C709276F599AB1E7]
[PII_EMAIL_85742AA49B225102F1B4]
[PII_EMAIL_8918AD2EF92E122857E4]
[PII_EMAIL_89C31211CAE0D643C763]
[PII_EMAIL_8A36ABFDF9214599E959]
[PII_EMAIL_8A471535549570B73311]
[PII_EMAIL_8AB8B5C886827905231F]
[PII_EMAIL_8C59800A34C1B3EFE8E6]
[PII_EMAIL_8C89048115768F1EC6FF]
[PII_EMAIL_8E3F8398BF51FBEBAF7C]
[PII_EMAIL_8EE048EBB9332E51A5D4]
[PII_EMAIL_8FE0F671B361C8AC5776]
PII_EMAIL_90DC04EF1F8C2E4E3696
[PII_EMAIL_96DEADC23339E6FF1A61]
[PII_EMAIL_98DCF4B9A6FF24AD0729]
[PII_EMAIL_9ADEB2EB81F173C673A5]
[PII_EMAIL_9BA94C086590853D8247]
[PII_EMAIL_9D9BE17879DFDCC54A8C]
[PII_EMAIL_9F14F5A6C04A5CCDC8DF]
[PII_EMAIL_A0226BED41EEB6F14136]
[PII_EMAIL_A0BF9380B3264775892A]
[PII_EMAIL_A427253221614B6547D5]
[PII_EMAIL_A56C300824654138212A]
[PII_EMAIL_A8141D83DB6FD7755E2D]
[PII_EMAIL_A8BBB2F84416FB451DD9]
[PII_EMAIL_A92FF817D17E8D60452C]
[PII_EMAIL_AA440AE03E7463817860]
[PII_EMAIL_ADCEFFF1909481288387]
[PII_EMAIL_ADE51C9DC40F02CC1A44]
[PII_EMAIL_AF1075B397E4D10B24CA]
[PII_EMAIL_B2002C850D9B617B20EB]
[PII_EMAIL_B498A452EAD96A6620C0]
[PII_EMAIL_B4FF9CEE962508372FDE]
[PII_EMAIL_B7B9D5D61500D9F178F0]
[PII_EMAIL_B7C1A48FD6E3FE9B6FEE]
[PII_EMAIL_B9C1E9B3C979A4788ACA]
[PII_EMAIL_BB4D7523BC9EE9B5EB40]
[PII_EMAIL_C292DF8952F5E47A07F4]
[PII_EMAIL_C43789565DABA92CE48E]
[PII_EMAIL_C8F34FBA185793B8F478]
[PII_EMAIL_CA3CE86B635FAFCF1B4C]
[PII_EMAIL_CB61A5B9A629404D30B6]
[PII_EMAIL_CB8A35BAFF7419FCA879]
[PII_EMAIL_CB95A879562CBA7F25A7]
[PII_EMAIL_CD114D5C02FD4C131C0A]
[PII_EMAIL_CD4B80DBD951ADB0D4DD]
[PII_EMAIL_CE9771A735AD69FA1FCF]
[PII_EMAIL_CF2E8F6A1F290BFB95D0]
[PII_EMAIL_CFC2E955CE5C65B79FA0]
[PII_EMAIL_D0EC0C16871F8DF8FA4F]
[PII_EMAIL_D102A27C2C792CAB4613]
[PII_EMAIL_D4FA352C189D7B519026]
[PII_EMAIL_D53A2DE2CC9319F2A5FD]
[PII_EMAIL_D5A5153E70F4CAB38E8B]
[PII_EMAIL_D6D29BDBC4EB32E760EE]
[PII_EMAIL_D9FDAE4B44EE88410B67]
[PII_EMAIL_DA2600DC129DC7923383]
[PII_EMAIL_DC7430254E1A40453278]
[PII_EMAIL_DD0ABB5D2BC644C987C6]
[PII_EMAIL_E0F1DB698A0602EF913E]
[PII_EMAIL_E147CF3510887C53B5ED]
[PII_EMAIL_E345464BD374C13B078B]
[PII_EMAIL_E3591DF394F434605722]
[PII_EMAIL_E3C8F8CA54A98FEBC7A7]
[PII_EMAIL_E58FBFA95A60C2E827B1]
[PII_EMAIL_E6685CA0DE00ABF1E4D5]
[PII_EMAIL_E87E9A9BF84739A75081]
[PII_EMAIL_EED711745A2299F4F80B]
[PII_EMAIL_F1217F3C0CB773984C4B]
[PII_EMAIL_F12B40E948BE1A378EBC]
[PII_EMAIL_F3D978384A2F35165405]
[PII_EMAIL_F447B7A19154F56107B3]
[PII_EMAIL_F4B2A19076F48718515A]
[PII_EMAIL_F69AC93B6F6E28A2E1A2]
[PII_EMAIL_F7204FBC8C5BF3E1EB95]
[PII_EMAIL_F7292BFC70600E64801C]
[PII_EMAIL_F731253B6F310D20EAA8]
[PII_EMAIL_F76FA71C1ABAF668F45D]
[PII_EMAIL_F8DA19DDED91C629FEB4]
[PII_EMAIL_FD1D21F642875174BD1C]
[PII_EMAIL_FD7DFF76FCBBDBFA0E04]
[PII_EMAIL_FFEAC975DCFA33CD442D]